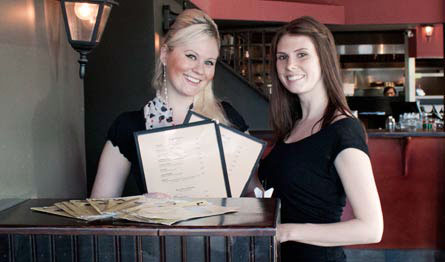 Welcome to L.A. Grill
L.A. Grill is a restaurant like no other. No other place offers such large amounts of quality food at such an affordable price. With over two decades of restaurant experience, we're committed to fresh ideas, continuous improvement and customer satisfaction.
Offering a wide variety of foods and new feature items, you're bound to find something that gives you that wholesome at home feel as well as something new and adventurous. Our everyday friendly prices combined with our constant array of specials makes L.A. an instant favourite for everyone.
Come feast on a hefty sized appetizer while watching the game or enjoy a classy glass of wine as you catch up with friends. Our trendy atmosphere and modern flavour makes L.A. a great place to relax and unwind. Enjoy yourself to the fullest without worrying about the bill because great food does not have to be expensive.
God is real, God is love, God is better than food.
5
Tzatziki & Pita
served with cucumber, yogurt & pita bread
6
Salsa & Chips
tortilla chips served with house-made salsa & sour cream
6
Cheese Garlic Bread
melted mozzarella & cheddar
7
Clam Chowder
a creamy white New England style chowder
8
Zucchini Sticks
fresh breaded & deep fried
9
Chicken Strips
served with house-made honey mustard sauce
10
Calamari
served with house-made tzatziki
10
Garlic Prawns
sauteed with garlic butter & lemon pepper
10
Wings
your choice of red hot, honey garlic or salt & pepper
10
Potato Skins
thinly sliced potatoes smothered in bacon, chives & cheddar cheese
11
Nachos
large & deluxe with all the toppings, topped with mozzarella & cheddar
8
Tossed Green Salad
classic mix of romaine lettuce, red onions, bell peppers, cucumbers & tomatoes with our house-made dressing
8
Caesar Salad
crispy romaine lettuce, croutons & parmesan tossed with our house-made dressing
13
Chicken Caesar
classic caesar topped with fresh grilled chicken tenders
13
Shrimp Caesar
classic caesar topped with baby shrimp
14
Mixed Grilled Caesar
sauteed prawns & fresh grilled chicken tenders
Sandwiches
toasted whole wheat, served with roasted potatoes & green salad
12
Shrimp & Avocado
fresh baby shrimp, garden sprouts, tomatoes, lettuce & fresh avocado
12
Chicken Pesto Sandwich
grilled chicken breast topped with house-made pesto, melted mozzarella, served ope-face on french bread
12
Chicken Club
crispy bacon, lettuce, tomatoes & fresh grilled chicken breast
12
Shrimp Club
crispy bacon, lettuce, tomatoes & fresh baby shrimp
Burgers
toasted bun, served with roasted potatoes & green salad
9
Classic Burger
fresh house made beef patty with lettuce, tomatoes & sliced onions
add bacon, mushroom, or cheese for $2
10
Cajun Chicken Burger
fresh grilled chicken breast seasoned in cajun spices
12
L.A. Burger
crisp bacon, melted cheddar & sauteed mushrooms
12
Mozzarella Burger
melted mozzarella cheese & crisp bacon
12
Chicken Cali Burger
crisp bacon & fresh avocado
14
Salmon Burger
fresh grilled salmon fillet topped with tzatziki
10
Veggie Burger
life steam brown rice patty & sprouts
9
Fettuccini Alfredo
fresh cream, pesto & parmesan
9
Spicy Tomato Linguini
homemade spicy tomato sauce
9
Curry Penne
olives, tomatoes & onions in curry cream sauce
14
Chicken or Prawn Fettuccini Alfredo
grilled chicken tenders or garlic prawns served in creamy pesto alfredo sauce
14
Garlic Prawn or Chicken Linguini
garlic prawns or grilled chicken tenders served in spicy tomato sauce
14
Chicken or Prawn Penne
grilled chicken tenders or garlic prawns served in exotic curry cream sauce
Mains
served with rice pilaf, roasted potatoes, green salad & garlic bread
substitute caesar salad +$1
add 5 prawns sautéed with garlic butter & lemon pepper +$5
17.5
New York Steak
6oz steak perfectly seasoned & professionally charcoal broiled to your liking
15.5
Blackened Salmon
fresh spring salmon fillet seasoned in cajun spices
15.5
Garlic Prawns
sauteed with garlic butter & lemon pepper
14.5
Chicken Souvlaki
chicken skewer with rice, caesar salad, pita bread & potatoes
14.5
Chicken Pesto
chicken breast, topped with house-made pesto & melted mozzarella
14.5
Cajun Chicken
fresh grilled chicken breast, blackened with cajun spices
Draft Beer pint 16oz 5.5 pitcher 64oz 20
Caesar
vodka & clamato juice
Fuzzy Navel
peach schnapps & orange juice
Long Island Ice Tea
gin, vodka, triple sec, rum, coke & lime juice
Purple Rain
vodka, blue curacao & cranberry juice
Screwdriver
vodka, orange juice
Seabreeze
vodka, grapefruit & cranberry juice
Tequilla Sunrise
tequila, orange juice
Prices are subject to change at any time
Lunch Specials
monday - friday, 11am - 4pm
must purchase one beverage per special
8
Chicken Souvlaki
with rice, potatoes, caesar salad, pita bread & tzatziki
8
Chicken Strips
with caesar salad, garlic toast & potatoes
8
Cheese Burger
with caesar salad & potatoes
8
Daily Soup & B.L.T. Sandwich
classic sandwich with soup
8
Daily Soup & Caesar Salad
classic salad with soup
8
Fettuccini Alfredo
with garlic toast
8
Curry Penne
with garlic toast
8
Spicy Tomato Linguini
with garlic toast
Dinner Specials
mon - sat, 4pm - 10pm
must purchase one beverage per special
Mon
12
New York Steak
6oz new york steak served with rice, potatoes, green salad & garlic toast
16
Souvlaki & Prawns
chicken skewer with garlic prawns
Tues
12
Garlic Prawns
served with rice, potatoes, green salad & garlic toast
16
Salmon & Prawns
salmon filet with garlic prawns
Wed
12
Chicken Souvlaki
chicken skewer served with rice, potatoes, caesar salad & pita bread
16
Salmon & Prawns
salmon filet with garlic prawns
Thurs
12
Grilled Salmon
spring fillet served with rice, potatoes, green salad & garlic toast
16
Souvlaki & Prawns
chicken skewer with garlic prawns
Mon
to
Sat
19
Steak & Prawns
6oz New York steak & garlic prawns served with rice, potatoes, green salad & garlic toast
Late Night Specials
monday - saturday, 8.30pm - 10pm (dine-in or take out)
5
Cheese Garlic Bread
melted mozzarella & cheddar
7
Zucchini Sticks
freshly breaded & deep fried
8
Chicken Strips
served with house-made honey mustard sauce
8.5
Calamari
served with house-made tzatziki
8.5
Garlic Prawns
sauteed with garlic butter & lemon pepper
8.5
Wings
your choice of red hot, honey garlic or salt & pepper
8.5
Potato Skins
thinly sliced potatoes smothered in bacon, chives & cheddar cheese
6
Clam Chowder
a creamy white New England style chowder
6.5
Tossed Green Salad
classic mix of romaine lettuce, red onions, bell pepper, cucumbers & tomatoes with our house-made dressing
6.5
Caesar Salad
crispy romaine lettuce, croutons & parmesan tossed with our house-made dressing
11
Chicken Caesar
classic Caesar topped with fresh grilled chicken tenders
11
Shrimp Caesar
classic Caesar topped with baby shrimp
7.5
Classic Burger
fresh house made 6 oz. beef patty with lettuce, tomatoes & sliced onions
8.5
Cheese Burger
melted cheddar cheese
8.5
Mushroom Burger
smoothered with sauteed shroomies
8.5
Bacon Burger
crispy bacon strips
9.5
L.A. Burger
crispy bacon, melted cheddar & sauteed mushrooms
9.5
Mozzarella Burger
melted mozzarella cheese & crispy bacon
8.5
Cajun Chicken Burger
fresh grilled chicken breast seasoned in cajun spices
9.5
Chicken Cali Burger
crispy bacon & fresh avocado
8.5
Veggie Burger
life steam brown rice patty & sprouts
Fri
Highball
Vodka, Gin, Rum, Rye, Scotch
Sat
Highball
Vodka, Gin, Rum, Rye, Scotch
Prices are subject to change at any time

5% GST & 10% PST are not included in prices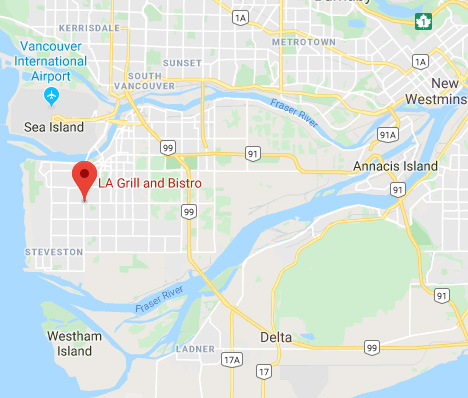 Contact
8100 No. 2 Road, Richmond BC
next to FreshCo in Bundell Center
Take out avaliable
Hours
Mon - Sat: 11am - 10pm
Sun: Closed